In getting back into the swing of things and posting more often, I decided to create a weekly post about a piece of furniture, accessory, light etc. that has caught my eye during the week. That being said, if there's anything that you've come across that you'd like to share, please send me an email (kmdecorottawa@gmail.com) with a photo or link to the item and why you love it so much!
So, to kick things off, here's my first Friday find...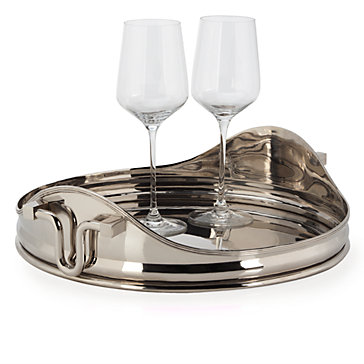 Holiday parties are right around the corner, and I would love to see this bar tray holding a collection of beautiful stemware and blingy bottles of booze. This is the

Bedford tray from Z Gallerie

. What is interesting about this tray is the raised sides and the rugged hardware. The swoop of the sides and the chrome finish is feminine as opposed to the masculine hardware, which makes this a bar tray for both him and her. Gift idea? I think so!